About Us
Welcome to the 'Official' Web site of the City of Southampton (Albion) Band.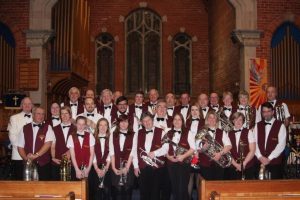 We are a brass band based in Southampton that rehearse at the Swaythling Neighbourhood Centre, just below Broadlands Road. Parking is available in the centre's car park, via Hampton Park Way just off Broadlands Road. The postcode is SO17 3AT.
We are available for hire for all sorts of fetes, weddings, reunions and other events. Please contact our secretary for information on how to hire us.
We rehearse every Monday evening, Practice starting at 7.30pm, until 9.30pm.
We always make new players welcome, even if they are just visiting the City. If you are interested in coming along then drop us a line. We are particularly looking for cornet, trombone and percussion players at the moment.
The City of Southampton (Albion) Band was founded in 1920, and since then it has been part of the City's heritage, cultural, and community scene playing at the Dell, (Southampton Football Club's old ground ) for over forty years and at leading local events such as Remembrance Day, VE and VJ Day parades and at the FA Cup Final celebrations in 1976. 2016 marked the 40th Anniversary of this event and the band helped to recreate the experience on 1st May.
The COVID epidemic has hit the band hard and we ended up having to postpone our 100th anniversary celebrations until 2022 when we performed a concert at the Turner Sims Concert Hall. Now that we're back to some sort of normality the band are back rehearsing and performing concerts.
During 2023 we've played two concerts at Romsey Bandstand, played for the Master Mariner's Thanksgiving Service at St. Michael's church and also undertook a mini tour to the Isle of Wight where we played at the Needles and the County Show just outside Newport.
Following our successful trip to Portugal in 2022, we're looking to visit there again in June 2024.
We're fast approaching Christmas which is always a busy of time of year. As always we'll try and keep our events page up to date so that you can see when and where we are performing.
You can also follow us at our Facebook page https://www.facebook.com/southampton.brass.band/
Nick Dawson, the Band's Director of Music, has been its conductor since 1993 and gained his earlier experience in the 1980's with Roger Swift, Director of Music at Knellar Hall and with Jerry MacCall of the Coldstream Guards.